Our Mission

At Lutheran Church of the Resurrection we want our members to experience Christ's love through our thoughts and actions. Our intent is to be a place where people can forgive, share joys, and be honestly concerned for the well-being of one another.
We extend our Christian witness to all people through the support of mission work abroad and participation and support of works of service in our community.
"To be a welcoming community, centered in Christ Jesus, growing in faith, love and service."
What does LCR Mean?

We are fortunate enough that LCR represents our name, Lutheran Church of the Resurrection. But how does this tell people who we are? We are motivated to Love God, Connect with Faith/Folks, and Reach Out Like Jesus!
Read our Constitution here.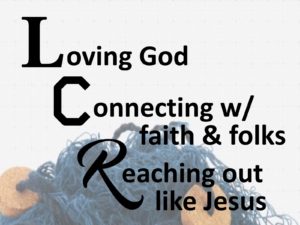 LCR is an
ELCA Congregation
ELCA mission
Together in Jesus Christ we are freed by grace to live faithfully, witness boldly and serve joyfully

.
ELCA vision
A world experiencing the difference God's grace and love in Christ makes for all people and creation.
ELCA values
Our values are grounded in faith, in our biblical and Lutheran confessional sources and our love of God and neighbor. They speak to the way this church lives and practices our faith, and they will guide how we journey forward in Christ as church together.